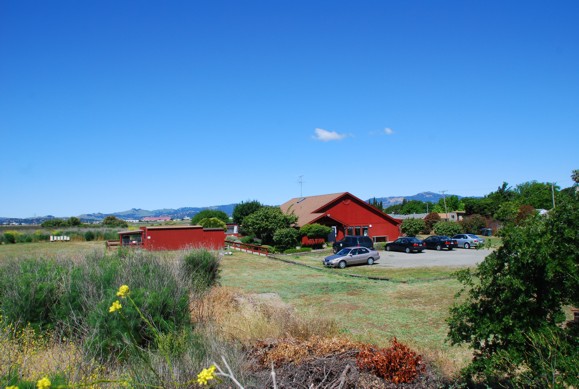 FORTY YEARS... SO FAR !
Where have the years gone? It's almost impossible to believe that 2017 will mark the 40th anniversary of the organization! And equally amazing that it will be our 30th year in the Wildlife Center in Suisun City! There are few of us who can look back on the entire history these days, but we'll try to give you a quick summary here. And just as important, we want to invite you to celebrate this combined occasion with us on a special day, February 18, 2017. More about that to come!
Of course, there was a time before there was an organization, which began around 1975-76 with a few people caring for wildlife. Wildlife rehabilitation was just beginning in the 1970's, mostly done as in-home care. Rehabbers were experimenting and learning what would work in caring for injured and orphaned wild birds and animals, much of it based on domestic animal and pediatric care.
The first step for the group was to incorporate as a non-profit tax exempt corporation, which was achieved in 1977. There was still very little in the way of facilities and much of the work and animal care was done in-home. Volunteers had birds and animals, even birds of prey, at home in their back yards! So our next goal was to find a home.
Our first Wildlife Center was a small house at 524 Delaware Street in Fairfield. It was lent for our use in return for running a humane trapping program. It was great to have a place, and lots of volunteer time went into converting it for wildlife care, building outdoor pens for raccoons, etc., and aviaries for the birds in the garage. However, there were a few challenges.
The structure was old and never designed for wildlife care. Water birds were swum in the bathtub and going in to use the bathroom was always exciting! The drains in the raccoon cages outside had an unpleasant tendency to run the wrong way, up instead of down. And because it was an old wooden building, every now and then all the termites in the walls would come out in a winged horde and fill the place. A better solution was obviously needed.
To give the Wildlife Center a permanent home, we would have to achieve two goals. A building created to care for wild birds and animals, and the land to build it on. With the organization's dual purposes being wildlife care and marsh preservation, we sought a site that would serve both, and discovered the Bryant property at the end of Kellogg Street in Suisun. The property was 17+ acres, with plenty of room to build on, and shared a boundary with Peytonia Ecological Reserve, where we were already doing Suisun Marsh education. It was perfect!
Now our challenges were even bigger. We had to find funding to purchase the Bryant property; and design and find funding to build a wildlife center. Acquiring the property would have to come first, and a grant proposal was created for the California Coastal Conservancy for purchase of the land. In 1983 we put in the first public access trails in the Suisun Marsh on Peytonia Reserve with a Coastal Conservancy grant/loan, so they were familiar with the organization and had worked with us on a successful project.
At the same we were working on a grant proposal to the California Department of Fish & Game for funding through the Environmental License Plate program to build the Wildlife Center. Designs for the Center were completed and our proposal was submitted.
Fortunately, despite some moments of drama along the way, both of our grant proposals were ultimately funded and we were ready to build the Wildlife Center! The only small regret was that we did not receive enough funding to build the Education Wing of the Center. More on that later.
In the fall of 1986, a contractor was selected and construction began. During construction we needed to stretch our funds as far as possible, so we did things like get the sheet rock for the building donated and hang it ourselves. At the same time, we were building a large bird of prey aviary with multiple enclosures as our first outdoor care structure. Since then we have built over the years 20+ rehabilitation enclosures and 10 display enclosures for our non-releasable education birds and animals.
As part of the grant agreement with the Coastal Conservancy to purchase our land, we were required to perform a mitigation project returning a portion of the acreage to tidal marsh. In 1993, in partnership with Suisun City, this project was undertaken and completed. We greatly appreciate the support and friendship we have received from the City in the 30 years since the Wildlife Center was built.
Having our new building made it possible for us to hold events there, and 1993 also was the year of our first Baby Animal Shower. Held on the first Saturday of June, the Baby Animal Shower has introduced thousands of guests to the Wildlife Center and the work it does in Solano County. Our Holiday Open House in November began in 1986, and is a wonderful time to show our guests the behind the scenes workings of the Center during the quiet winter months with very few birds and animals in residence.
More recently in 2010 we introduced the Halloween Howl in October as a third annual event. Complete with spooky marsh maze, lots of decorations, games, shows and costume contest, the Howl seems to get more popular every year. All of these fun occasions not only help support us, they provide opportunities for the community to enjoy and learn more about their Wildlife Center.
Very soon after we began wildlife care, the need to teach children and the public about native wildlife rescue and the Suisun Marsh became apparent. Begun in 1978, our education program has grown over the years to a number of different offerings that can be presented at the Center or off-site. By far the most requested are the shows with our non-releasable wild birds and animals. They are also on display for guests to see, and serve as our "animal ambassadors" that educate and teach people to love them.
A long awaited dream took shape in 2013 with the construction of the Education Wing. As with most of our projects, a lot of things had to come together to make it happen. Funding for building materials was received from a grant of California Fish & Wildlife fines through the Solano County Park & Recreation Dept. Labor came from two sources: volunteers from the Shell Oil refinery in Martinez, which also contributed funds; and volunteer skilled carpenters from Travis Air Force Base. The result is a beautiful high-ceilinged space where we can welcome many more visitors in comfort.
This was followed up in 2014 with a new roof for the Wildlife Center (already? yes, we're out in the marsh with constant sun and wind). An additional benefit of the new roof was that because of improved materials the building is much better insulated and stays much cooler. Since we use no air conditioning our guests, and certainly the volunteers, are happy about that!
Over the last 40 years the organization has achieved other impressive accomplishments. Not the least is just continuing to exist! Through good times and bad times, we have performed our work and kept the Wildlife Center functioning and improving. On a $25,000 to $50,000 annual budget, that alone is a substantial achievement. Below are a few others:
From 1979 to 2015, we released almost 16,000 native wild birds and animals back to the wild in Solano County, in our primary and most important task.

Since 1977, over 300,000 children and adults have taken part in one of our environmental education programs, not counting the hundreds of visitors to the Wildlife Center annually.

Since 1978, we have produced four issues a year of the "Otter Chatter", our member newsletter with articles on wildlife rescue, environmental topics, and organization news.

In 1994, we established a Suisun Marsh Natural History Association web site, one of the first for rehabilitation organizations, which has operated ever since.

In 2013, we joined social media with our Facebook page, which enables us to reach a wider audience outside our membership with more frequent information.
You may have noticed that in this article we have not focused on the individuals involved in the story. That's because there are literally too many to name, and no one should be left out. Please know that we are deeply grateful to every founder, Board member, staff member, volunteer, donor, grantor, Association member and friend we have ever had. None of this would have been possible without all of them.
Back to SMNHA Homepage