Suisun Marsh Natural History Association
OWLS - Silent Hunters of the Night !
Make your Memorial Day memorable and join the Suisun Wildlife Center for an exciting two evening event! See and learn about the fascinating and mysterious birds of the night – Owls of North America.
The first evening will include an audio-visual presentation, viewing of native California species of owls, and hands-on exploration. Meet Guinevere the Great Horned Owl, Luna the Barn Owl, Milo the Screech Owl, and Burr the Burrowing Owl! The fun starts on Friday May 19th from 7:30-9:30pm.
The event continues on Saturday May 20th with an afternoon to evening field trip led by Robin Leong, local Napa-Solano Audubon expert.
Registration is limited to 30 - sign up today!
Those interested in participating should call the Wildlife Center at 707-429-4295, between 9 and 6 to register
- no walk-ins will be accepted.
This special event is $20.00 per person or $35 for two for both nights - children under 18, $10 each. All proceeds assist the Suisun Marsh Natural History Association in its Suisun Wildlife Center activities.
The Suisun Marsh Natural History Association is a 501(c)3 organization.

return to Schedule of Events

---
Directions to the Suisun Wildlife Center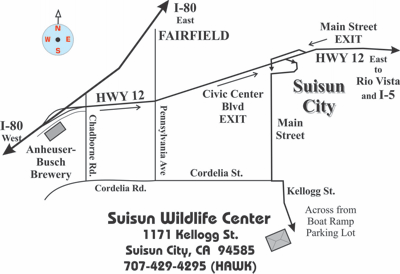 ---
On Line since 1994 © SMNHA
Send Email comments or inquires to: webmaster@suisunwildlife.org
Information subject to change - please call or Email for verification. Last update - (02/25/17)