Suisun Marsh Natural History Association
Wildlife Center Open House - One chance each year to tour the Center !
The volunteers of the Wildlife Center and the Board of Directors of the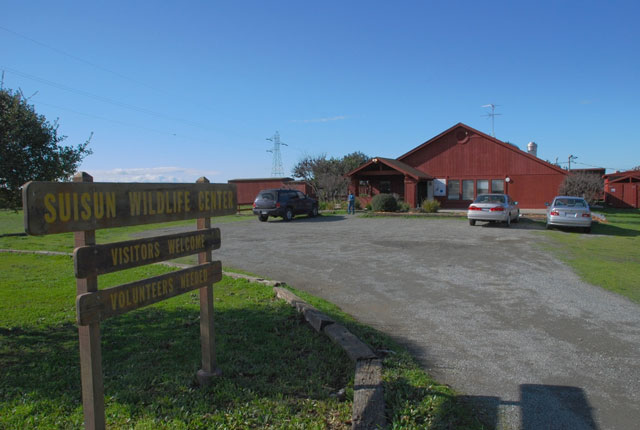 Suisun Marsh Natural History Association would like to invite you and your friends to the Wildlife Center's annual open house.
Each year at this time, we open our doors to our members, neighbors and friends. If you haven't seen our wonderful wildlife displays, come check them out! Even if you've been there before, you probably haven't met Bandit, our newest addition to our resident non-releasable wildlife. Come by and say hello – he'll love it! Resident Screech Owl Milo also has a new outside home, so come see him!
Tours will be given and refreshments offered to all who come. Join us from 11:00 am to 4:00 pm. We will also be introducing the animals from our education program. At 12:00 and 2:00, weather permitting, there will be demonstrations with Sool, our resident Golden Eagle.
The Wildlife Center is located at 1171 Kellogg St., Suisun - across from the public boat launching ramp. Bring along some supplies for the wildlife – your help is always welcome. Call 429-4295 for suggestions. We'll be looking forward to seeing you!
---
See details about Volunteering and information regarding the Suisun Wildlife Center.
The Suisun Marsh Natural History Association and Suisun Wildlife Center is a 501(c)3 organization.

return to Schedule of Events

---
Directions to the Suisun Wildlife Center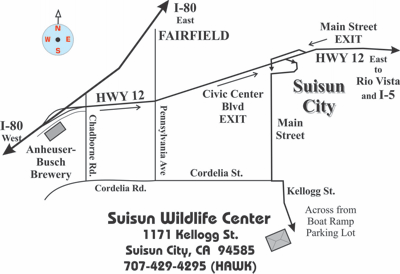 ---
On Line since 1994 © SMNHA
Send Email comments or inquires to: webmaster@suisunwildlife.org
Information subject to change - please call or Email for verification. Last update - (02/06/10)