Suisun Marsh Natural History Association
Baby Animal Shower!
Come celebrate and help care for the spring baby animals on Saturday, from 11:00 am - 4:00 pm at the Suisun Wildlife Center.
Enjoy cake and refreshments, and visits from our education animals. Learn how we care for our local wildlife. See the baby bird nursery, native plant garden, and our new Raccoon and Screech Owl enclosures.
There will be lots of activities for kids! You can help support a baby duck, jackrabbit, raccoon, squirrel, owl or songbird by sponsoring their care for just one month.
Learn about baby raccoons, jackrabbits, opossums and birds. Find out if you have what it takes to be a volunteer and work with wildlife!
Or you can bring some badly needed supplies such as: apples and grapes, laundry soap, bleach, Dawn dishwashing soap, heating pads, or garden hoses. Flannel baby blankets and nuts in the shell are also needed.
Fun for the whole family - please come and join us!
For more information, call 429 - 4295.
---
See details about Volunteering and information regarding the Suisun Wildlife Center.
The Suisun Marsh Natural History Association and Suisun Wildlife Center is a 501(c)3 organization.

return to Schedule of Events

---
Directions to the Suisun Wildlife Center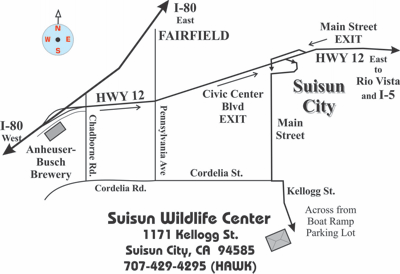 ---
On Line since 1994 © SMNHA
Send Email comments or inquires to: webmaster@suisunwildlife.org
Information subject to change - please call or Email for verification. Last update - (02/06/10 )