Suisun Marsh Natural History Association
Basic Wildlife Care Class - GIVE WILDLIFE A HELPING HAND !
Are you interested in caring for wild animals? The Suisun Marsh Natural History Association is holding a class in Basic Wildlife Care to train volunteers to help at the local Wildlife Center. The training includes wildlife identification, basic care and husbandry, and medical protocol. "Baby Mammal In-Home Care" will also be taught covering Raccoons, Squirrels, and Jackrabbits.
Over 200 species of wild birds and animals come in to the Wildlife Center, and the work is always challenging and satisfying.
The Basic Wildlife Care training sessions take place over four nights and will begin in March of this year.
For more information or to register, call the Wildlife Center at:
707-429-4295 (HAWK) 9am – 6pm, Mon.- Sun.
---
This class is provided for those who volunteer at the Wildlife Center.
See details about Volunteering and information regarding the Suisun Wildlife Center.
The Suisun Marsh Natural History Association and Suisun Wildlife Center is a 501(c)3 organization.

return to Schedule of Events

---
Directions to the Suisun Wildlife Center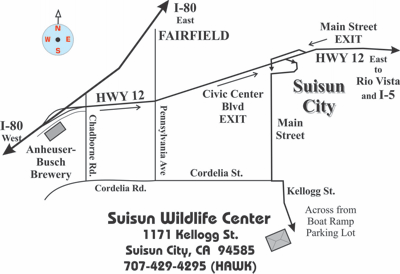 ---
On Line since 1994 © SMNHA
Send Email comments or inquires to: webmaster@suisunwildlife.org
Information subject to change - please call or Email for verification. Last update - (02/06/10)