Suisun Marsh Natural History Association
Suisun Wildlife Center - WISH LIST !
Paper Goods:
Paper towels

Xerox copy paper (8½x 11, white, pink, yellow, green)

Trash bags: Large garden, large kitchen and Compactor bags
Cleaning Supplies:
Glass cleaner

Cobweb duster/Broom/Dustpan

Unscented Laundry detergent

Bleach (unscented)

Sheets and pillowcases, baby blankets (especially flannel or fleece)
Food Items:
Grapes and apples

Unsalted Nuts in the shell (walnuts, almonds, pecans)

Eggs

Meat (including freezer burned or out‑dated beef or chicken, no processed meat)

Shrimp and seafood

Bird seed

Mouse food

Liquid bird vitamins/ Calcium powder
Miscellaneous Items:
We also welcome Gift Cards from: grocery stores, pet stores, gas stations, Walmart, Amazon, Costco and Home Depot.
Cash donations are, of course, always welcome!
Your contributions make a BIG difference - Thank You for your Support!
For more information, call the Wildlife Center at:
707-429-4295 (HAWK) 9am – 6pm, Mon.- Sun.
---
See details about Volunteering and information regarding the Suisun Wildlife Center.
The Suisun Marsh Natural History Association and Suisun Wildlife Center is a non-profit 501(c)3 organization.

Wildlife Rehabilitation


Environmental Education


SMNHA Homepage

---
Directions to the Suisun Wildlife Center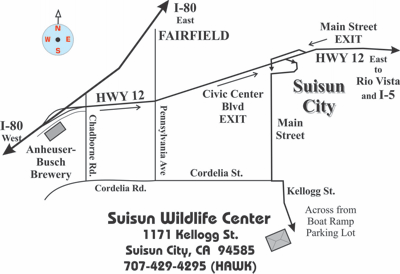 ---
On Line since 1995 © SMNHA
Send Email comments or inquires to: webmaster@suisunwildlife.org
Information subject to change - please call or Email for verification. Last update - (04/09/18)